Mono Ethylene Glycol (MEG) Level Monitoring
Overview
Cadent Gas has 82,000 miles of gas pipe to keep operational throughout the UK with 11 million homes and businesses connected. One vital part is the use of Mono Ethylene Glycol (MEG). This liquid is injected into the gas system at selected source points to prevent hydrate formation in the pipelines. MEG is critical to preventing yarn seals from leaking.
Technolog's innovative MEG tank level monitoring system uses an ultrasonic sensor connected to the Cello IS data logger. This is placed directly above the liquid to continually measure changes in fluid level. The MEG level monitoring system is installed at strategic points in the gas distribution network and levels of additive remaining in each MEG tank are regularly transmitted to GasCore. Nominated users can be elected to receive alarms via email or text message and arrange for tank refills before levels are depleted, ensuring constant operability and maintaining saturation levels within key metallic networks. This same technology can be applied to any static tank level monitoring application.
This monitoring solution allows users to identify areas of the gas distribution network with low or rapidly changing MEG tank levels, take informed cost effective action to
reduce the number of reported events and retain the integrity of the gas pipe before customers are affected.
Key Elements
Inform network operators when a tank is nearing empty
Improve the efficiency of tank refill processes
Identify leakage or theft
Secure web based analysis
Key Outcomes
Reduction in costly site visits by utilising resources more efficiently
Transmission of live data upon an alarm event
Maximise system operability
Monitor usage of additive
Improved control methodology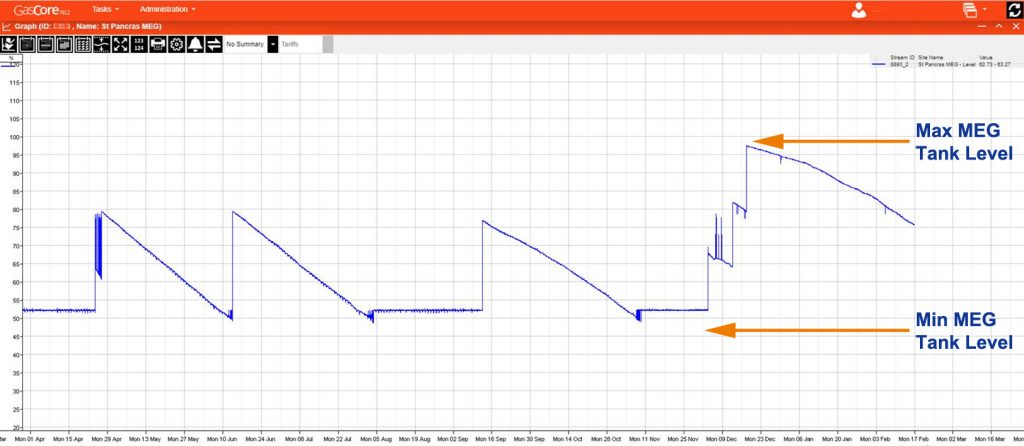 Related Products